Hello Beautifu'ls!
I really enjoyed doing my
'Birthday Wishlist
' and with that being over 2 months ago - I think it's about time I updated my wishlist!
1. The 'Sex and the City' Boxset
Before I started university, I was obsessed with the movies but never interested in the series. However, I do not know if it's the inner journalist in me, or the influence of my gorgeous friends, but I have become obsessed with Carrie and her hectic love life. And because she is in the same field as me and completely obsessed with fashion - I feel connected to her! Even if my friends do say I am more of a Samantha character ... Ahem ....
2. Cartoon/ Fun Midi dresses
OMG Fashion - £12
In my wardrobe, I have every dress imaginable - tie dye midis, paisley maxi, 'princess' dresses - the works! However, I still am in need of a fun midi dress - maybe the famous white batman bodycon dress as fashioned by Cheryl Cole, the 'Kapow' dresses that I have seen Vicky Pattison model (from Geordie Shore) or this super cute Barbie dress which I hope to wear one day myself! I think this dress is PERFECT for cocktails with the girls and with it's fun design is perfect for more of an 'upbeat' look.
3. Another pair of Kurt Geiger's ....
Hope
Like any good fashionista knows (And what I learnt from Glamour editor Jo Elvin) that the more you invest in a shoe, the more comfort and more money's worth you'll get from the shoe. I love KG's - the sophistication, the style - the comfort! and the fact that the sale prices are very affordable, how can I resist! I have even found an eBay page that sells ex-display Kurt Geiger's for a small percentage of the cost.
The link for this page is
here
.
4. The Beauty-Blender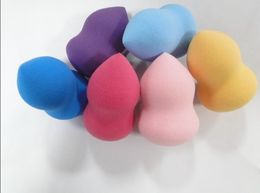 For years, I have heard so much about these sponges and have always wanted to try them! However, the 'original' one is quite expensive so I am currently looking for one that is the same quality but at a more affordable price. When I do get this, I'm going to do my very first video! Exciting stuff!
This is all I can think of at the moment, but I shall update the post if anything else springs to mind.
What do you think about me doing a vlog?