Hello My Lovely viewers!
As you know, I very recently went from platinum/bleach blonde to a nice, dark brown. Well, today I am finally going to review the dye that I used - Garnier Olia Permenant hair colour.
Garnier have boasted about the colour being the first home hair colour of it's time to be powered by oil & to contain no ammonia. With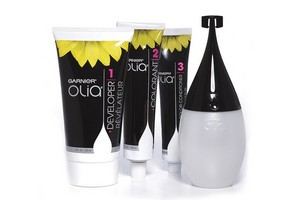 it being a permenant hair dye, I really wanted to try this dye as my hair was in desperate need of some TLC! Although I do not have grey hair (yet) it also says that it covers all grey hairs, YAY! I decided that I wanted to go for a really dark brown as I thought it would make my eyes pop & ended up going for the Dark Brown 4.0. I brought 2 boxes as my hair is rather long & in the boxes I got: a bottle of developer (1), the colourant (2), the silk & shine conditioner (3), the pear-shaped applicator & a pair of black gloves. The bottle was a really useful, and fit the shape of my hand
perfectly. The whole application was really easy & with it being the first hair application by myself, I was really impressed by it. Also, I noticed that the whole 'colouring smell' was not strong - well, I couldn't even smell it! - and after being so used to the horrid smell of bleach, I couldn't help but smile! The colour needs to be on your hair for a total of 30 minutes & after rinsing  you can use the Silk & Shine conditioner. I REALLY like this product & couldn't help touching my hair & watching the colour dance in the light.
My opinion? I will be using this colour again! I love how dark my hair colour came out & how it flatters my skin tone. If you are thinking about going from blonde to brunette, you may need to dye your hair twice as you hair will be very porpous & the red/warm tones need to be put back into your hair.
So, Do you like my brown? or do you want your blonde journalist back!
Lauren xoxo